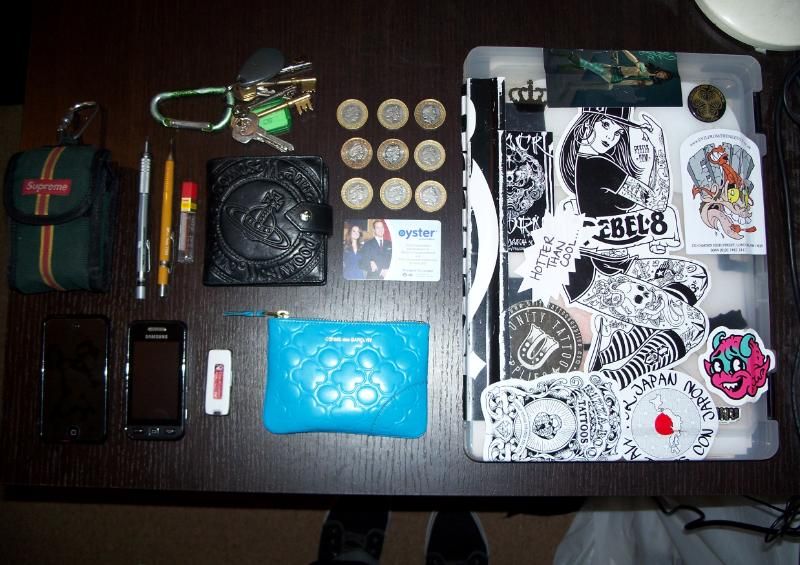 I borrowed... or more accurately stole this idea from the Essentials feature on hype beast. the first batch of featured people just used it as a way to suck up to there sponsors and advertise there own wears.
but i think its am amazing idea, and seeing as there not banging down my door to feature me, i feature myself. (I'm a pirate at heart).
so here's one for all the people who've ever said "hay dude why you always got a back pack, and whats in there"
> CAMERA CASE CONTAINING THE WORST CAMERA IN THE WORLD
I always have a camera you never know when your going to see something awesome your going to want to snap
> pencils
one red lead mechanical pencil, one graphite mechanichal and spare leads
> All the keys in the world
> WALLET
there's no better way to loose money than having it balled up in your pocket... (every now and then i wish i had a money clip, gangsta!!!)
> TWO POUND COINS
i keep every two pound coin i get i save every one
> OYSTER CARD (royal addition)
because i dont drive a i got's ta get about
> iTOUCH
besouse music is everything and having to listen to other peoples conversations on public transport is freaking hellish
> PHONE
I believe i have the worst of the best phone/ or the best of the worst phone in the world, but it dose everything i need, no one will try to steal it and i want be all sad when i break it
> MEMORY STICK
i got the biggest memory stick i could got my mitts on so i can carry all my useless information around
> SECOND WALLET
my second wallet with all the cables, bussnes cards, loose ends and spair parts i dont want flotting around my Back pack ... like a little man draw
> PLASTIC SAFE
this box is my life it contains all my latest sketches, customer specks, reference everything i would be lost without it.
that is all the worthless crap that makes my world work and if your thinking ooo we can roll on that guy and wet us some broken old tat i dare you, I'll give you a slap